Byotat Covers the Real Estate Market with New Website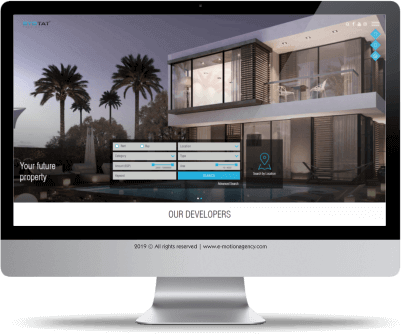 Cairo, Egypt (December 6, 2019) : real estate market is Egypt is getting more competitive by the day. With new residential, commercial and summer home projects in both Cairo and vacation locations, it can be hard to keep up with developments, let alone select the right one for you. Recognizing this, and the need to stand out from the crowd when providing vital details, local digital creative solutions agency e-motion created a visually appealing, information-packed website for Byotat.

Representing many of the most desirable properties in the market, the website is user friendly, with multiple search options for both sellers and buyers. Rising to the challenge involved in creating so many fields, not only for new properties, but also resale and rental, e-motion has produced an easy-to-navigate platform that is a breeze to use. From the minute you enter, the clearly laid out site encourages users to browse, read news items and catch up on events. Key features include: Filter by developer, a Projects module, and a Resale/ Rent units module in addition to the latest online Byotat magazine. It is also possible to extract files to save as PDF project pages.
With the onset of winter, savvy buyers are already starting the search for the perfect getaway home for the summer months, and with the help of e-motion Byotat is making it just that much easier.

https://byotat.com/



About e-motion:
Leading local digital creative solutions agency e-motion was established in Cairo in June of 1998.
Well-established as a provider of quality media content and creative websites, mobile applications and leading brand social media development,
e-motion places importance on accuracy, insight and professionalism when meeting any client's requirements. The agency has been accredited both nationally and internationally with prestigious awards for its diverse accomplishments which reflect its understanding of the technical, operational and market-oriented aspects of its field.