E-motion Helps Fork Foods Reach a Ready Market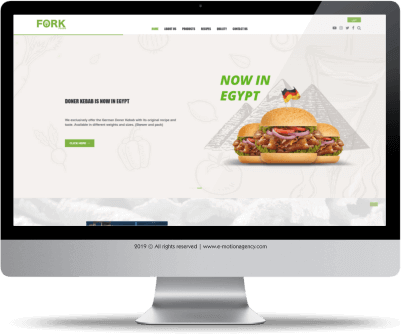 Cairo, Egypt (December 12, 2019): When ready prepared Oriental food company Fork Foods wanted to reach out to a hungry market, local digital creative solutions agency e-motion got to work creating an appetite- boosting web site to promote its products. Shawerma and doner kebab have held a place in the hearts of locals and travellers alike across the length and breadth of the Middle East, not least in Egypt, and Fork Foods have just made things a lot simpler with products now readily available for the first time in Egypt in supermarkets across the country.
Targeting homemakers, caterers and restaurants, the message e-motion set out to convey was that everything was already done, meaning no mess and time-consuming preparation. The colorful, attractive website introduces the products with clear, tempting images, along with recipes and quality certification, so should be a hit with a market that loves to eat.

Each page allows you to click to access the full information. Recipes can be accessed from multiple pages and are clear and easy to follow with a full list of ingredients and a step-by-step video guide to preparation. The site has been designed to load quickly, making it efficient and user friendly, and also offers the options of creating a User Account, with password protected content, select admin permission and User login and logout.

https://fork-foods.com/
About e-motion:
Leading local digital creative solutions agency e-motion was established in Cairo in June of 1998.
Well-established as a provider of quality media content and creative websites, mobile applications and leading brand social media development,
e-motion places importance on accuracy, insight and professionalism when meeting any client's requirements. The agency has been accredited both nationally and internationally with prestigious awards for its diverse accomplishments which reflect its understanding of the technical, operational and market-oriented aspects of its field.