Arabiata Website Now Covers Three Diverse Markets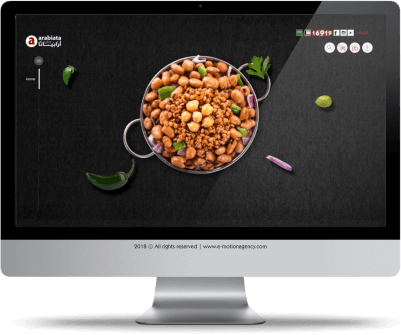 Cairo, Egypt (March 31, 2019): Food is a matter that is close to everyone's heart. So, when popular local oriental food chain Arabiata branched out, first to Kuwait, and then the Kingdom of Saudi Arabia, it needed to revamp its website to embrace the specific requirements of these two new markets. Although there is a shared language between Egypt, Kuwait and KSA, each country has its own culture and identity, even when it comes to food choices. Creating relatable content for each country was the challenge, and local digital creative solutions agency e-motion, stepped up to the mark.


Used to delivering professional, quality results within a short deadline, the e-motion team delivered the KSA website to coincide with the country launch date. Each website displays a menu packed with colourful meal images, mouth-watering descriptions and prices, making selection easy. There is even a kids' menu, geared to attract younger foodies. Adding to the fun, an online games section has been included so young customers can enjoy their time while waiting for their order.


All branches are shown in a country map, with a user–friendly interface, that also has links to social media platforms and newsletter subscription. The hotline for delivery is clearly shown on each page of the website, making placing an order simple and speedy.
Arabiata shows us that when it comes to great food, there are no borders.
#arabiata
#lunch
#biglunch
#delicious
#food
#oriental
#egyptianfood


About e-motion:
Leading local digital creative solutions agency e-motion was established in Cairo in June of 1998.
Well-established as a provider of quality media content and creative websites, mobile applications and leading brand social media development,
e-motion places importance on accuracy, insight and professionalism when meeting any client's requirements. The agency has been accredited both nationally and internationally with prestigious awards for its diverse accomplishments which reflect its understanding of the technical, operational and market-oriented aspects of its field.