Karim Farahat Launches New Website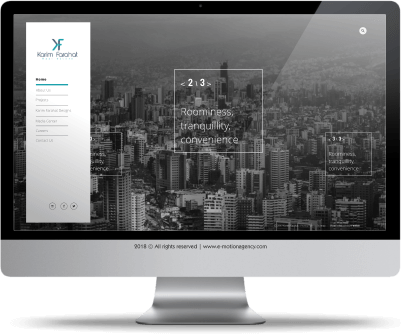 Cairo, Egypt (January, 2018) – When high profile Karim Farahat Investment & Real Estate Development demanded a website that truly reflected its standards and achievements, the challenge was readily taken up by local digital creative solutions agency e-motion. No strangers to the competitive world of online media, the e-motion team needed to find an edge that would place the new website head and shoulders above the competition.


Anyone browsing through the new KF website would surely agree that the challenge was met above expectations. From the home page onwards, each menu item offers pleasing visuals and a clear impression of the quality that can be expected from the company. The company values are clearly stated as you enter the site, tabs are easily accessed, leading to a detailed and exciting catalogues of interior and exterior designs. Completed projects can be viewed, giving inspiration and a glimpse into the possibilities for new undertakings. Whether users are looking for job opportunities through the Careers tab, or wanting access to the Facebook or Instagram platforms, all it takes is a simple click.


The lasting impression from viewing the website is one of sleek, stylish quality, with insight into the design criteria of today's demanding market.
The brief was met.
For more information please visit: http://karimfarahat.com/

#karimfarahat
#realestate
#interiordesign
#exteriordesign
#decorition


About e-motion:
Leading local digital creative solutions agency e-motion was established in Cairo in June of 1998.
Well-established as a provider of quality media content and creative websites, mobile applications and leading brand social media development,
e-motion places importance on accuracy, insight and professionalism when meeting any client's requirements. The agency has been accredited both nationally and internationally with prestigious awards for its diverse accomplishments which reflect its understanding of the technical, operational and market-oriented aspects of its field.