Spinneys' Egypt at your Fingertips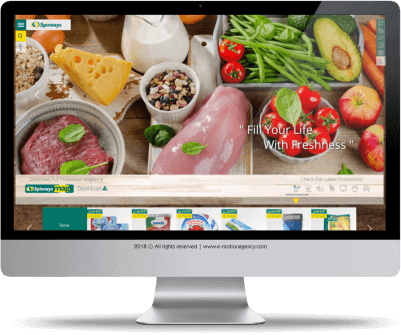 Cairo, Egypt (June 8, 2017) Supermarket shopping has become a part of the digital world. Wanting to up the game with something that would truly stand head and shoulders above competitors, Spinneys Egypt gave local digital creative solutions agency e-motion the task of creating a unique, sophisticated e-commerce website. With content laid out in an easy-to-navigate style, users can browse through a huge range of items and check on daily offers. An added bonus is the smart integration of the website with the mobile app and loyalty programs. Now shoppers will have a host of benefits with a touch of their fingertips.
The result is a fully dynamic, eCommerce Developed website, utilizing the e-motion content online shopping management system. The search module enables users to find items easily by categories and locations, making shopping that much simpler. The user-friendly interface is bright, colorful and attractive, and reflects the brand identity in an appealing way.
Shopping has now become a pleasure rather than a chore for many grateful users. To explore for yourself, just go to: https://www.spinneys-egypt.com/
The website is ready for eCommerce with full online shopping capabilities.
About e-motion:
Leading digital creative solutions agency e-motion established in Cairo - Egypt 1998, We are providing brands with the digital ecosystem & platforms required to grow. @ e-motion, we boost up & grow brands by customizing & innovating delightfully powerful marketing, experiences & digital work.
Well-established as a provider of quality media content and creative websites design & development, mobile applications design & development, leading brand social media development, branding, UX design, online advertising campaigns for lead generation, VR / AR interactive solutions design & development, and e-commerce solutions.
e-motion places importance on accuracy, insight, and professionalism when meeting any client's requirements. The agency has been accredited nationally and internationally with prestigious awards for its diverse accomplishments, reflecting its understanding of the technical, operational, and market-oriented aspects of its field.