El Zenouki Group Launches New Website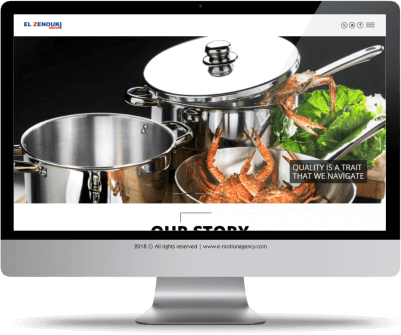 Cairo, Egypt (January, 2018) – The success story of leading kitchenware manufacturer El Zenouki Group made it essential to launch a website that truly reflected their growth and expansion. Something that would encompass all four companies in the group and the latest additions to the product ranges. That is where local digital creative solutions agency e-motion stepped in, taking on the task of bringing a vast amount of information to a sleek, professional website that could deliver information on a wide spectrum of kitchenware and cookery utensils.


With a diverse market, ranging from food industry professionals, kitchen manufacturers and suppliers to enthusiastic home cooks; e-motion needed to build the pages for each of the four companies under the group's banner in a clearly defined yet cohesive way.


Visitors to the site can enjoy browsing through product catalogues with attractive images showcasing the range of each individual company within the group, from the white aluminium kitchenware offered by the original venture, El-Zenouki Kitchenware Company, the non-stick cookware of Trueval Cookware Company to the sleek, stainless steel items created by Zinox El-Zenouki Cookware Company. Touch El-Zenouki for Electrical Appliances completes the picture, with a range of goods to make for a perfect cooking experience.


The user-friendly interface has convenient features like the Global Reach tab, which gives customers outside of Egypt the same easy access to the website, letting them know where products are available. There is also an after-sales service chat box on the Homepage as well as email and hotline information for customer care enquiries and the Facebook page is just a click away. Job seekers who want to join this rapidly growing group can even apply online by filling out the available Career form.


Adding to the online experience, Chef Yousry offers a host of exciting recipes for users to enjoy preparing at home with their El Zenouki Group kitchenware. Users also have the option of subscribing to an email alert to keep up with El Zenouki Group news and special offers. Everything is there, with information attractively presented and accessible at the simple click of a mouse.
For more information please go to: http://elzenouki.com/

#elzenouki
#kitchenware
#cookware
#trueval
#zinox

About e-motion:
Leading local digital creative solutions agency e-motion was established in Cairo in June of 1998.
Well-established as a provider of quality media content and creative websites, mobile applications and leading brand social media development,
e-motion places importance on accuracy, insight and professionalism when meeting any client's requirements. The agency has been accredited both nationally and internationally with prestigious awards for its diverse accomplishments which reflect its understanding of the technical, operational and market-oriented aspects of its field.