e-motion Launches Mazra3ty Platform for Agriculture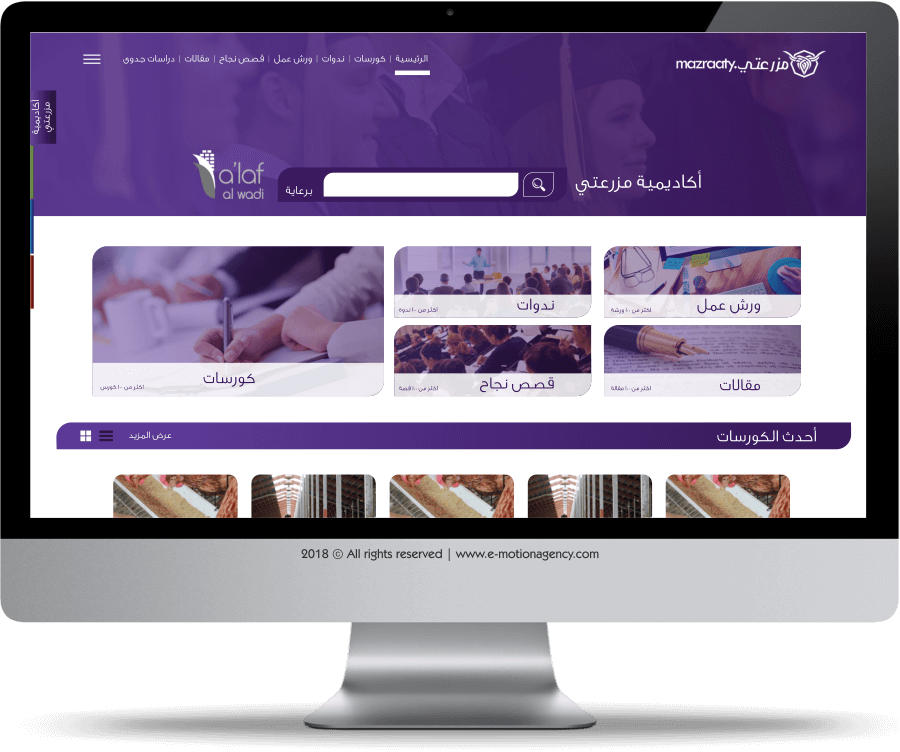 Cairo, Egypt (April 10, 2018)Mazra3ty, the largest and most comprehensive online portal to serve the livestock, poultry and fisheries sectors of Egypt's agricultural industry, has recently been launched by local digital creative solutions agency e-motion. The fully dynamic website and mobile app provides an accessible branded hub for all stakeholders in the field and includes such features as commercial transactions and Stock Market information.


The portal is valuable for companies, it allows them to search for consultants and potential candidates within clearly defined parameters. Farmers also benefit by being able to access figures and statistics from the Stock Market, giving them information on fodder and agricultural products, thus allowing them to set budgets and follow market trends. The incorporation of a detailed directory and online shopping facility has already established the site as an essential resource for Egypt's growing agriculture industry.


Mazra3ty also hosts an educational platform, where expertly produced videos on farming are available, along with courses where vets, farmers, merchandisers and those wanting to start up agricultural projects can participate in courses with the option of going for various levels of certification. Registration is simple, users have their own accounts, with the facility of signing up for these online courses.


The e-motion team met the technical challenge of setting up a secure, reliable site that could handle diverse needs, including live streaming of real-time financial data, along with being easy to navigate and user-friendly. It encompasses futuristic front-end features, including responsive design and push notification (one signal), user-defined categories, such as a CRUD module which allows authorized users to navigate the website and app as Admin, profile editing and a handy menu module.


Thanks to e-motion's considerable expertise, the end result has proved itself to be an extremely efficient portal that can handle a high volume of traffic. Right from the first week of its launch, Mazra3ty has garnered a rapidly increasing user base, and shows no sign of slowing down.

To learn more about mazra3ty visit https://mazra3ty.com/


About e-motion:


Leading local digital creative solutions agency e-motion was established in Cairo in June of 1998.
Well-established as a provider of quality media content and creative websites, mobile applications and leading brand social media development, e-motion places importance on accuracy, insight and professionalism when meeting any client's requirements. The agency has been accredited both nationally and internationally with prestigious awards for its diverse accomplishments which reflect its understanding of the technical, operational and market-oriented aspects of its field.