e-motion Creates Cutting-Edge Website for Magnom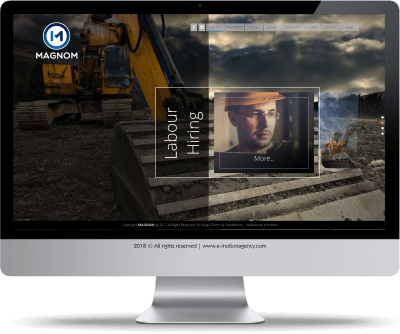 Cairo, Egypt (March 20, 2018)Local digital creative solutions agency e-motion has once again rolled out a premium product with its recent launch of a highly accessible, streamlined and informative website for marine construction and logistics services company Magnom. Given a brief that involved highlighting the diverse and specialised contracting and support services offered by Magnom, the website is visually attractive, easy to navigate and geared to be appealing to industry decision-makers.


Magnom has surged ahead in its field through its expertise in providing project solutions with specialised equipment rental, outsourced manpower and warehousing. Its ability to meet the demands of large infrastructure projects such as the new Suez Canal has reinforced the company's reputation as a reliable, professional and resourceful business partner.


By showcasing Magnom's achievements and a versatility that also encompasses acumen in the mining and gas industries, e-motion has created a platform that places its client Magnom strongly in the marketplace for the wealth of new infrastructure projects on the horizon.

To learn more about Magnom visit http://magnomegypt.com/


About e-motion:


Leading local digital creative solutions agency e-motion was established in Cairo in June of 1998.


Well-established as a provider of quality media content and creative websites, mobile applications and leading brand social media development, e-motion places importance on accuracy, insight and professionalism when meeting any client's requirements. The agency has been accredited both nationally and internationally with prestigious awards for its diverse accomplishments which reflect its understanding of the technical, operational and market-oriented aspects of its field.