e-motion Goes Organic and Natural with Wadi Food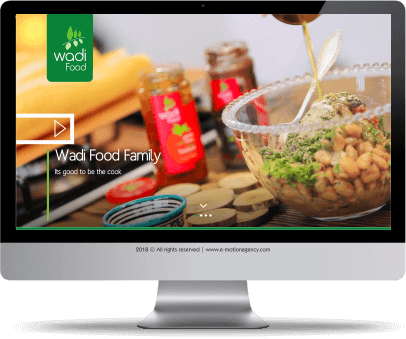 Cairo, Egypt (24th February 2019) – When you have a range of products that holds appeal for an increasingly health conscious and food-savvy market, you need to package your message in an attractive, simple-to-understand way. Wadi Food, a subsidiary company of Wadi Group, has steadily gained ground with its high quality virgin olive oil and other organic products since its launch, and on a B2B basis now supplies 85% of five-hotels and resorts, in addition to restaurants and cafes. Shoppers can easily find ISO certificated, award-winning Wadi Food products in a wide range of supermarkets and hypermarkets across the country, in addition to the many countries it now exports to.


Wadi Food chose e-motion to upgrade its existing website because the company was confident that the team from e-motion could put together something instantly recognizable that would represent the brand, its accessibility and its ethos. And e-motion delivered.
The new website is fresh and inviting, and so user-friendly that end consumers have no trouble navigating its enjoyable content.


The home page is packed with information, with a video introducing Wadi Food products, the company's road to success and awards garnered, its local and international distribution and links to social media channels. Users can locate the handiest outlet with Wadi Food items, or simply go online to place an order. There is no shortage of inspiration for home cooks; the recipe section offers tempting ideas with accompanying videos as well as written directions.


In line with Wadi Food's health-focused branding, there are plenty of beauty and diet tips in a special lifestyle section, and anyone wanting to align with their stars can see which products are best suited to their zodiac sign. It is easy to keep up to date with any news, users just need to subscribe to the newsletter or get directly in touch with Wadi Food through the handy Contact Us link.

Website: https://wadi-food.com/
#wadifood
#chiefs
#olive
#egypt
#middleeast
#organicfood
#organicfoodstore
#recipes

About e-motion:
Leading local digital creative solutions agency e-motion was established in Cairo in June of 1998.
Well-established as a provider of quality media content and creative websites, mobile applications and leading brand social media development,
e-motion places importance on accuracy, insight and professionalism when meeting any client's requirements. The agency has been accredited both nationally and internationally with prestigious awards for its diverse accomplishments which reflect its understanding of the technical, operational and market-oriented aspects of its field.