ERA Launches Upgraded Informative Website for Real Estate Brokerage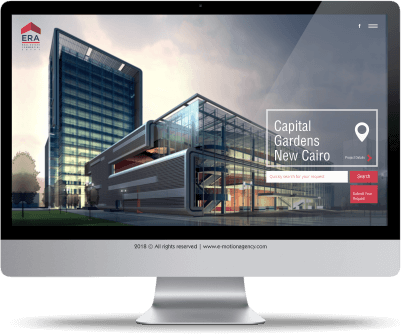 Cairo, Egypt (August 30, 2018) With new projects entering the market at an unprecedented rate, leading real estate broker ERA has upped its game with a comprehensive, user-friendly website to showcase both commercial and residential properties and projects under its brokerage umbrella.
Tasking local digital creative solutions agency e-motion with the job of creating a contemporary, stylish site, ERA specifically requested that projects be accessible by price, minimum and maximum area and location, in addition to differentiating between exclusive and non-exclusive projects.
All the most sought after locations are listed, from Cairo, New Cairo, 6th Oct. City and New Capital to Ain Sokhna and the North Coast, and are searchable by Google.
With clearly defined menus for both commercial and residential projects, visitors to the site can quickly obtain information on their area of interest, while still being attracted to explore further by the simple, striking design and layout.
To explore further, pay a visit to the new website: https://era-egy.com/
About e-motion:
Leading local digital creative solutions agency e-motion was established in Cairo in June of 1998.
Well-established as a provider of quality media content and creative websites, mobile applications and leading brand social media development,
e-motion places importance on accuracy, insight and professionalism when meeting any client's requirements. The agency has been accredited both nationally and internationally with prestigious awards for its diverse accomplishments which reflect its understanding of the technical, operational and market-oriented aspects of its field.