IPIC Website Launched by E-motion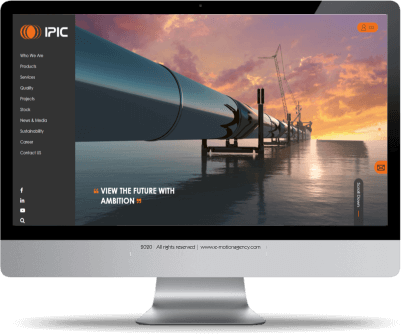 Cairo, Egypt

Meeting the needs of leading oil and gas pipeline project supplier IPIC for an informative and user-friendly website, media and digital provider e-motion e-commerce platform has just rolled out a stunning, comprehensive platform that showcases IPIC's services, products and accomplishments.

As IPIC needed to impart as much valuable information as possible about their range of pipes and bens and pipe and steel structure solutions to existing and potential customers, both local and international, e-motion has created a website that presents the details in a simple, yet highly professional way.

By browsing through the clear and functional menu, it is easy to learn about the company's history, the range of products and services available, along with an overview of projects completed and the company's sustainability policy. The website delivers on IPIC's requirement to build on their excellent rapport with their customer base while keeping them abreast of any news. Candidates wishing to join IPIC will find a portal for applications, giving them the opportunity to build a career in a key industry.

visit the website