Spinneys Egypt eCommerce Platform Design & Development Delivered
With a world increasingly turning to online shopping options in order to maintain social distancing &, Spinneys has rolled out a comprehensive eCommerce portal to meet the Egyptian consumers' requirements. Designed, Developed & Maintained by e-motion based in Egypt with international experience, the website presents a customer-focused e-commerce experience with online shopping international standards that makes shopping for a wide variety of groceries & households products both simple and efficient.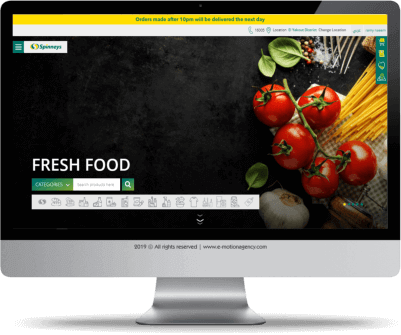 Using the top-notch technology of the custom-developed e-motion eCommerce platform that is fully integrated and provides a seamless experience, e-motion has incorporated communication between the operation and the platform, with inventories across all branches showing real-time availability. From its launch, seamless operation of the website was ensured through analysis and synchronization of multiple business functions needed to enable Spinneys to reach their online sales capacity, increase customer loyalty, digital transformation ease & reduce the operational costs and challenges.
This is the first e-commerce website in Egypt to offer such detailed descriptions of its range of items offered, enabling shoppers to make guided choices. An organized data inventory is perpetually integrated on the website, meaning shoppers can search through sections like Bakery, Fresh Food, Food Cupboard, Cheese, Dairy & Eggs, Chilled & Frozen, Beverage, Sweets & Snacks, Beauty & Personal Care, Cleaning, Baby, Fashion & Linen, Home & Garden, Electronics & Appliances and Pets with ease. By checking the Hot Offers, shoppers can also make great savings.
visit the website
or Start your new online shop business today