I-MUT New Website Launched!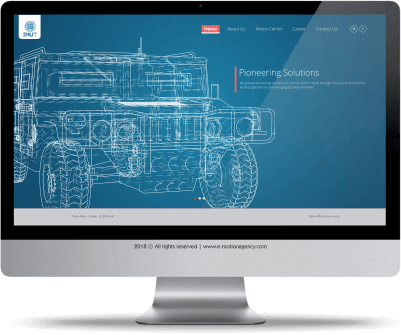 Cairo, Egypt (October 1, 2018) In a fast-paced world, technology and research combine to meet today's complex and often changing security demands. This plays out against many backdrops, from urban to rural, commercial to community, but the aim remains constant. To provide the very highest standards of systems and apparatus to maintain national safety and security.
In order to create a website that could present a clear and informative picture of IMUT and its military capabilities, leading local digital creative solutions agency e-motion was tasked with meeting the content requirements within a highly secure coded framework. The project features a CMS (Content Management System) for logging in and out to the user account, password protected content, with selected levels of administrative permission to view photos, videos and documents.
The website showcases e-motion's ability to met diverse and specific customer requirements, with the skills to combine appealing design and attractive content with the highest level of technical interfacing.
To learn more about I-Mut visit http://i-mut.net

About e-motion:
Leading local digital creative solutions agency e-motion was established in Cairo in June of 1998.
Well-established as a provider of quality media content and creative websites, mobile applications and leading brand social media development, e-motion places importance on accuracy, insight and professionalism when meeting any client's requirements. The agency has been accredited both nationally and internationally with prestigious awards for its diverse accomplishments which reflect its understanding of the technical, operational and market-oriented aspects of its field.